TASSEL: Chris's Tips!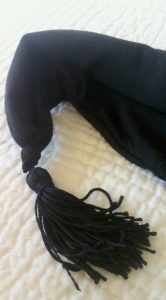 When washing your Nite Hood™ Sleep mask, turn it inside out with the tassel tucked safely inside. It is rather delicate compared to the Hood itself. Beyond being a whimsical design detail; it is imbued with dream magic. Whether you dream or not it is there to make sleep and dreams better.
Here is how it works:
Make a wish or an aspiration right before bed – think of all the parameter effects of the wish. You can sketch it out or write it down to assert it more effectively. The tassel is like a mailbox, it holds the wish for easy pick-up and delivery. You might be surprised at the effects.
As a student, I studied the commercial graphic arts and advertising – it was imperative to have new and interesting ideas. I would often sketch and write out ideas before bed and wake the next day having the perfect idea ready in my head. More than once I woke in the middle of the night to an idea – I kept the pad and pencil near by just in case. Try this out, it works – sleep smart!
Chris Parsons
Nite Hood Test Pilot and Designer